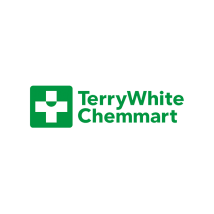 TerryWhite Chemmart
Terry White Chemmart know better health goes beyond better prices and a comprehensive range. When you visit a TerryWhite Chemmart pharmacy, you have access to fully-trained professionals offering expert answers and advice to whatever health questions or concerns you may have.
Whether you're looking for a flu vaccination, blood pressure check, parenting advice or something else, we're here to help. It's providing personalised care the way we've always done it – direct from the chemist to the customer.
Expertise, affordability, care and trust; these are the qualities that have cemented TerryWhite Chemmart over time. As we move forward together, we'll continue to offer Australians the very best in health.
STORE TRADING HOURS
Weekdays: 9am-5pm
Saturday: 9:00am - 5:00pm
Sunday: 10:00am - 4:00pm